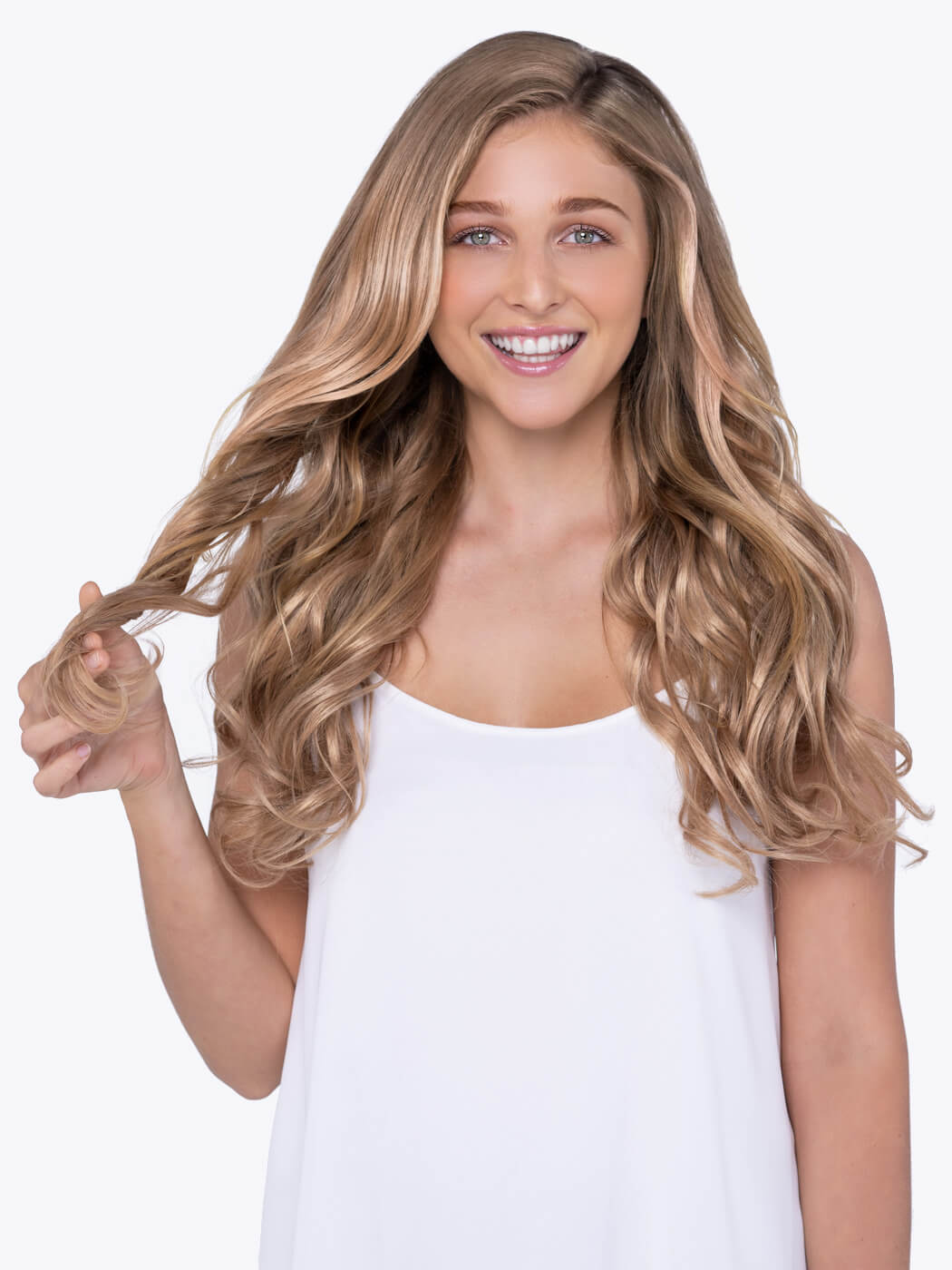 120G FULL SET | 20"
Darling | Strawberry Blonde #16
$149.00
Pay in monthly installments at
$74.50 /month interest-free
Dazzling, dreamy and delicate - combining bubbly blonde and sweet red, we bring you our most playful shade — Strawberry Blonde. These clip-in hair extensions are perfect for girls with light yellow or strawberry hues.
Product Details
Tim Carli Clip-in Hair extensions are produced with 100% Remy human hair. Remy hair is the highest quality human hair that naturally blends with your own. Remy hair can last up to 1 year or longer.
reviews & questions
Sturdy and high quality extensions
Very well sewn in clips that are a better grade clip. There are so many extensions in the package that I got the layered look I wanted. These blend in well because they are not overly wide and fit my head without wrapping around it
First timer
This was my first time trying out extensions. My friend recommended Tim Carli. I just wish I did more research on the different weights and how it works for different length hair and various hair density. I have a bob and the 120gr doesn't create a seamless and natural transition where my real hair ends and the extensions begin. I opened the extensions and tried them on (obviously) and now I can't return it for a better suited 220gr.
Happy so far!
I just received my carlies and I'm very happy so far. Good quality, good thickness, gorgeous final product + lovely customer service team.
Lasts Forever!
I've heard before that blonde extensions go through a lot of processing, so I didn't really expect much when I ordered. But, I'm absolutely blown away by how long mine have lasted! It's been about 6 months now and my carlies are in mint condition. Barely any shedding, no heat damage, they never tangle.... Does it get any better than this? I'm in heaven!
Review Submitted
Your feedback matters, because it shows us where we're going right— or wrong. Thanks for helping us create an even better experience next time you pop in.
A
02/18/2019
Angela Langlotz
Q: Do I remove the extensions when I wash my hair? What about when I blow dry my natural hair? I'm worried that my round brush that I use to smooth my hair will catch the root of the extensions and pull them out.
A

Nicky Van Zyl

A: Hi Angela. Thank you for your question! We highly recommend that you don't shower with the extensions clipped-in, but rather wash them separately in a basin. Showering with your extensions clipped-in can lead to unmanageable tangles with your natural hair. In addition, when it comes to brushing or blow-drying your extensions, it's important to be as gentle as possible as too much tugging and pulling can lead to the hair shedding. When brushing your extensions (clipped-in or not) we advice to always brush the hair from the bottom up using gentle strokes. You can definitely blow-dry your extensions clipped-in, however, there is a potential risk of accidentally catching the extension with the brush and pulling it. Our best advice would be to simply be as gentle as possible when blow-drying your extensions, Angela. Take it one section at a time and gently work the brush through the hair without getting too close to the clips : ) We hope this helps! If you have any other questions, please don't hesitate to ask a Tim Carli stylist on the Website chat. Happy styling. : )
A
11/20/2018
Amber Wolfenden
Q: Can these be curled/straightened?
A

Tim Carli Julian

A: Hi Amber! Thank you for your question. Since Tim Carli clip in hair extensions are made with 100% Remy Human Hair it means you can heat style your extensions just as you would with your own natural locks. You can check our blog posts on how to curl and straighten them. Take care!
Hang In There
Our team is looking over your question. We'll get back to you with answers in no time.