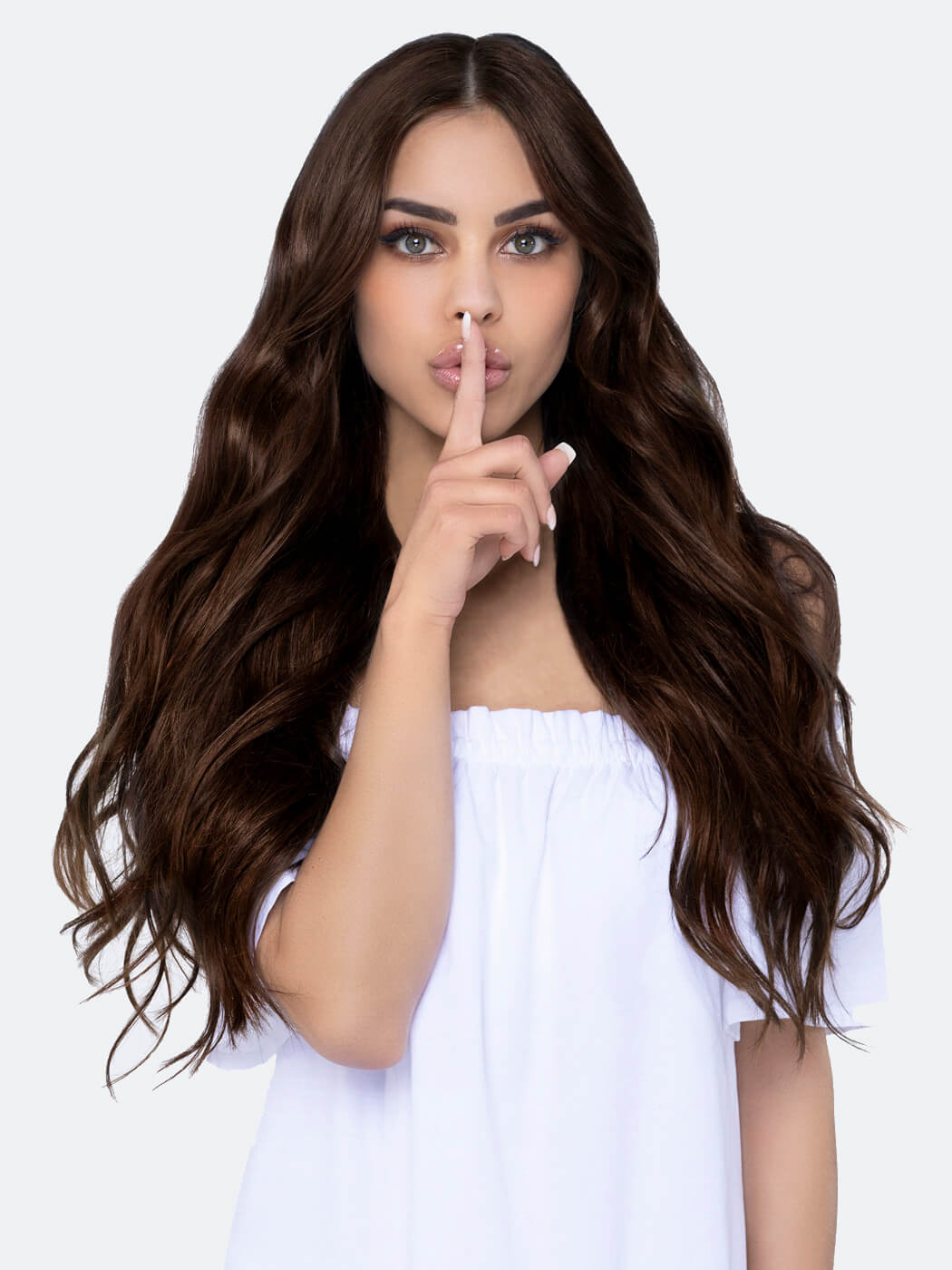 120G FULL SET | 20"
Belle | Chocolate Brown #4
$149.00
Pay in monthly installments at
$74.50 /month interest-free
Our Chocolate Brown natural hair extensions are for girls who know how to pull on his heartstrings. Chocolate Brown is a warm, luscious, multi-tonal brown that blends beautifully with hair that has gold and red undertones.
Product Details
Tim Carli Clip-in Hair extensions are produced with 100% Remy human hair. Remy hair is the highest quality human hair that naturally blends with your own. Remy hair can last up to 1 year or longer.
reviews & questions
ADVICE
This is not a review, although I am so happy with the quality of my 120gr extensions! But, I'd like to reasure first time extension users. You may experience itching and your neck may feel overly hot since your body has not yet adapted to the added strands. Rest assured, this WON'T last forever. Just give yourself a good 2 weeks to get used to it. : )
Looks Stunning
They are fabulous!
FEELING AMAZIN
I was worried that the color would be off, since my hair roots are like chestnut with copper undertones and the ends are light, because of previous highligts. But to my amazement or maybe just sheer luck, the color actually matches my crazy hair combination quite well! LOL! Thanks for good qulaity hair and making gals feel and look amazing!
Excellent Product
Excellent Product
Review Submitted
Your feedback matters, because it shows us where we're going right— or wrong. Thanks for helping us create an even better experience next time you pop in.
J
03/08/2019
Jane
Q: How many hair clip extensions do you get in a set? or is it all one piece?
A

Nicky Van Zyl

A: Hi Jane! Thank you for reaching out to us. Tim Carli hair extensions consist of 9-10 wefts that make up one set. The 120g hair extension sets have 9 weft pieces that vary in size. The 160g and 220g sets have 10 weft pieces that vary in size. The higher the weight set, the more hair is attached to each weft. Let me know if you have any further questions. xx
M
02/11/2019
Miya Wickramasinghe
Q: How do I know how long the extensions are. I need at least 20". Also what is the return policy?
A

Nicky Van Zyl

A: Hi Miya. Thank you for your question. I'm happy to help : ) Tim Carli hair extensions are 20 inches in length. Our return policy works as follow: Your Tim Carli extensions package has two components: A tester or sample, component, and the main component. You can return your extensions for any reason within 60 days of purchase, if you have only opened the sample component and if the main component is still sealed. Simply fill in the Contact Us form or email us at support@timcarli.com and post it back to us. We will give you a prepaid shipping label. Once we receive the item, you can request either a full refund, a Tim Carli coupon of the same value as your purchase, or exchange your purchase for another color/style. *Credit card refunds can take between 2-14 working days. Note: The tester piece must be returned with the exchange/return. Do NOT remove the tester piece from the card. Your return/exchange will not be accepted if the tester piece is missing or altered. Thank you Miya, let us know if you have any other questions. : ) Have a great day.
A
12/14/2018
Amanda
Q: Do you sell curly clip in extensions?
A

Tim Carli Julian

A: Hi Amanda! Thank you for your question. I'm happy to help. Tim Carli hair extensions will arrive in a straight style. However, since they are made from 100% Remy human hair, they can be curled. : ) If you have any further questions, don't hesitate to chat with a Tim Carli stylist. Kind Regards, Nicky.
C
02/05/2018
CHARITY
Q: Hey! I have extremely thin hair and I'm not sure if extensions can even work for me. Could you suggest what could work for my hair?
A

Tim Carli Support

A: Dear Charity (what a pretty name!) Thank you for your question. I will be happy to help :) Our 120g set should work with even the finest hair, but to be safe, I would rather ask that you send me some recent photos of your hair at info@timcarli.com. Once I've had a good look at what we're working with, I will be more confident to make a recommendation. I'm looking forward to hearing back from you! Sincerely ❤ Louisa Tim Carli Support
L
12/08/2017
LORNA
Q: I have short and thin hair that's also layered, will I need two 120gr or will one be enough?
A

Tim Carli Support

A: Hi Lorna Thank you for your interest in Tim Curly Hair Extensions! The 120g extensions are ideal for thin hair and one set typically works for this hair type. To ensure you make the right choice, you can live chat with your favorite expert stylist. You can send her a photo of your hair to review and she'll reply with your hair solution. We look forward to helping you out further! Warmest Regards, ❤ Nicky Tim Carli Support
Hang In There
Our team is looking over your question. We'll get back to you with answers in no time.