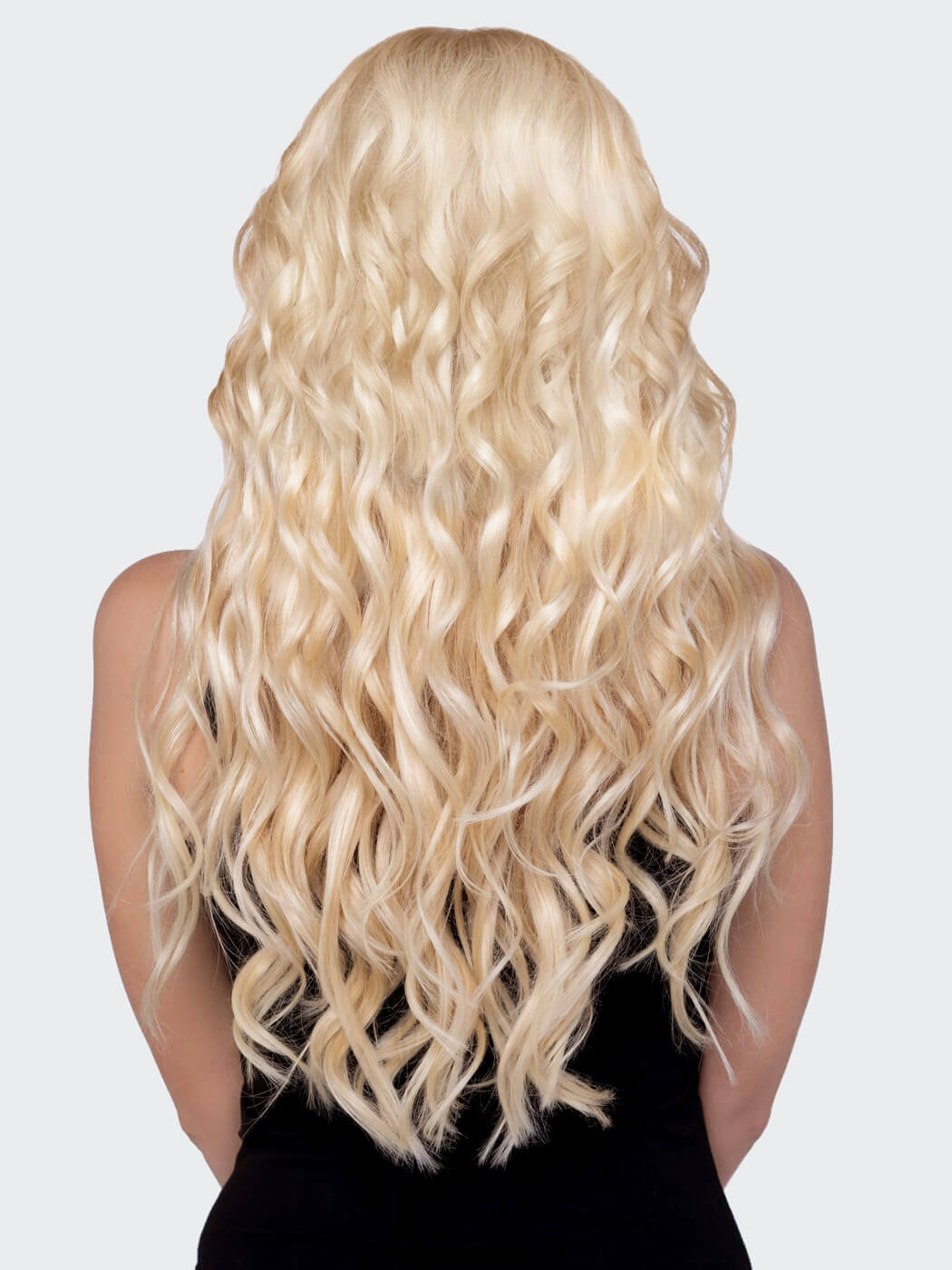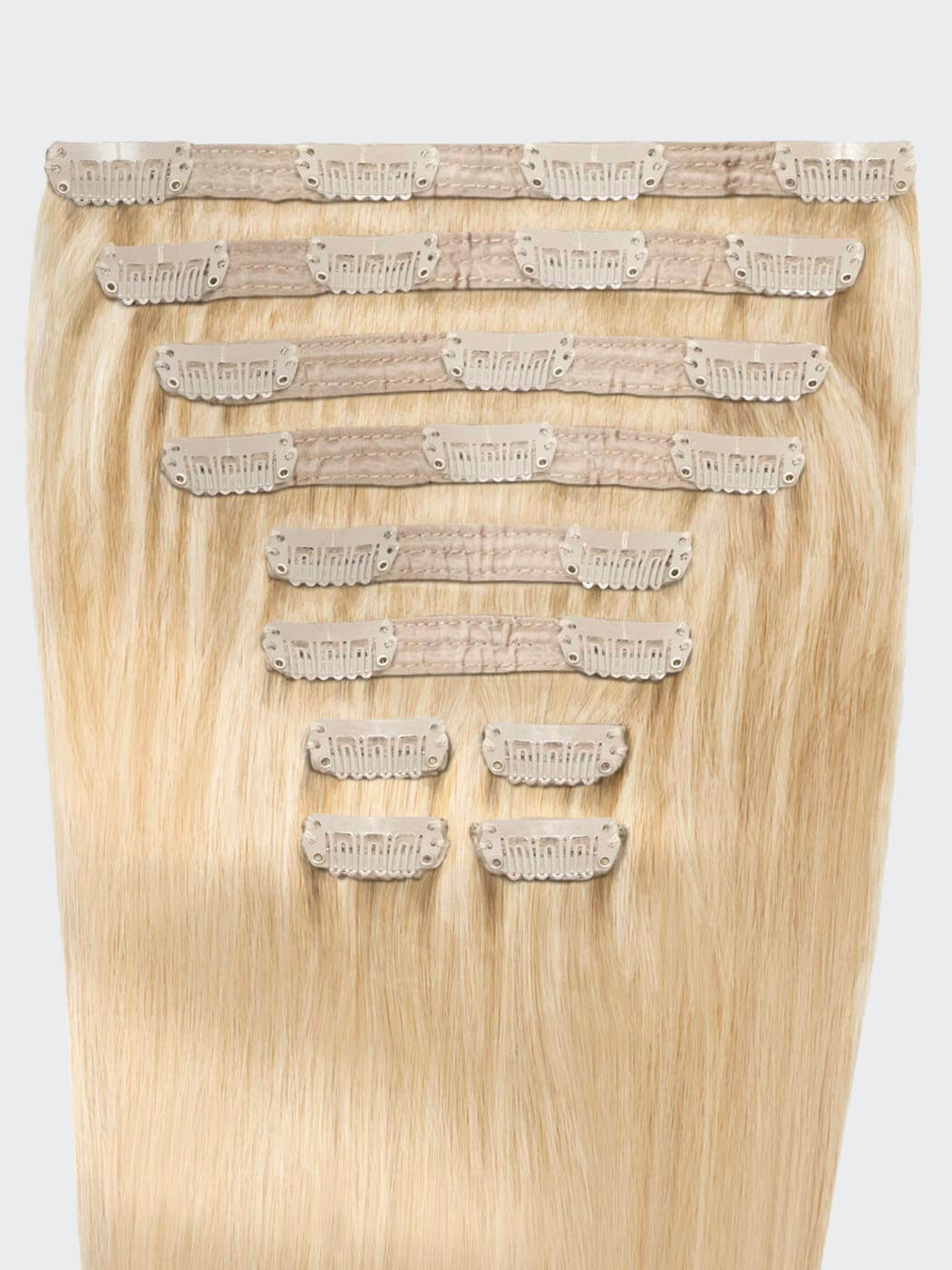 160G FULL SET | 20"
Sunshine | Bleach Blonde #613
$180.00
Pay in monthly installments at
$90.00 /month interest-free
Our Bleach Blonde Remy clip-in hair extensions are designed for girls who love to have fun in the sun! Bleach Blonde is a natural sun-kissed shade with warm, golden undertones.
Product Details
Tim Carli Clip-in Hair extensions are produced with 100% Remy human hair. Remy hair is the highest quality human hair that naturally blends with your own. Remy hair can last up to 1 year or longer.
reviews & questions
Beach Blonde Waves 🌊
I love how beautiful my hair looks when it's wavy. I think the color blends a alot better that way and it just feels very mermaid-y! haha
Review Submitted
Your feedback matters, because it shows us where we're going right— or wrong. Thanks for helping us create an even better experience next time you pop in.
M
03/25/2019
Minnie
Q: My hair is like a gold blonde and I anted to know can I dye these extensions? I want them to match my hair
A

Nicky Van Zyl

A: Hi Minnie! Thank you for reaching out to us. Tim Carli hair extensions are made from 100% Remy human hair, which means you can dye them a shade darker. Keep in mind that coloring your hair extensions a shade lighter will require you to bleach the hair, which is a harmful chemical process that can damage your hair extensions and compromise the smooth texture of the hair. On the other hand, Bleach Blonde is a beautiful golden shade of blonde with sunkissed undertones. If you're not sure about your color match, you can always use the Hair Color Detector on our Website to find your perfect match. : ) Have a wonderful day! Please let us know if we can help with anything else. xx
V
03/02/2019
Veronica Angulo
Q: Hola acabo de comprar un juego de extenciones 158y miro ahorita,128 no se vale encuanto me lleguen voy a regresarlas.
A

Nicky Van Zyl

A: Hi Veronica. Thank you for reaching out to us. You are welcome to return your Tim Carli hair box if the main compartment has not been opened.
M
02/06/2019
Mayra
Q: Hi how can I make payments ?
A

Nicky Van Zyl

A: Hi Mayra. Thank you for your question. We accept all major debit cards and credit cards, including Visa, MasterCard, American Express, JBC, and Discover cards as well as PayPal payments. We also offer a three-month interest-free installment payment plan. It allows you to split your Tim Carli purchase into 3 interest-free monthly payments using your Credit Card. There is no application form. Your credentials will be checked through a quick verification process that takes up top 3 business days. Once you are approved, your card will be charged for the first installment and your order will be processed. Let me know if you have any other questions. : )
T
11/23/2018
Teresa
Q: How long are these extensions. I can't seem to find the lenghty
A

Tim Carli Julian

A: Hi Teresa. Thank you for your questions. Tim Carli hair extensions are 20 inches in length. If you have any further questions, please feel free to chat with a Tim Carli stylist. : )
D
05/08/2018
DOROTHY
Q: I have a unique blond blend in my hair, not sure which color extensions to get to assure a natural match?
A

Tim Carli Support

A: Hallo Dorothy Thank you for your message! Tim Carli extensions are dyed using an advanced multi-tonal dye process.That means that even if your extensions are a shade lighter or darker than your natural hair, they will still be virtually undetectable, because there are darker and lighter strands in each set that allow the extensions to blend seamlessly and naturally with your own hair. Hope you find your perfect match! ❤ Nicky
Hang In There
Our team is looking over your question. We'll get back to you with answers in no time.