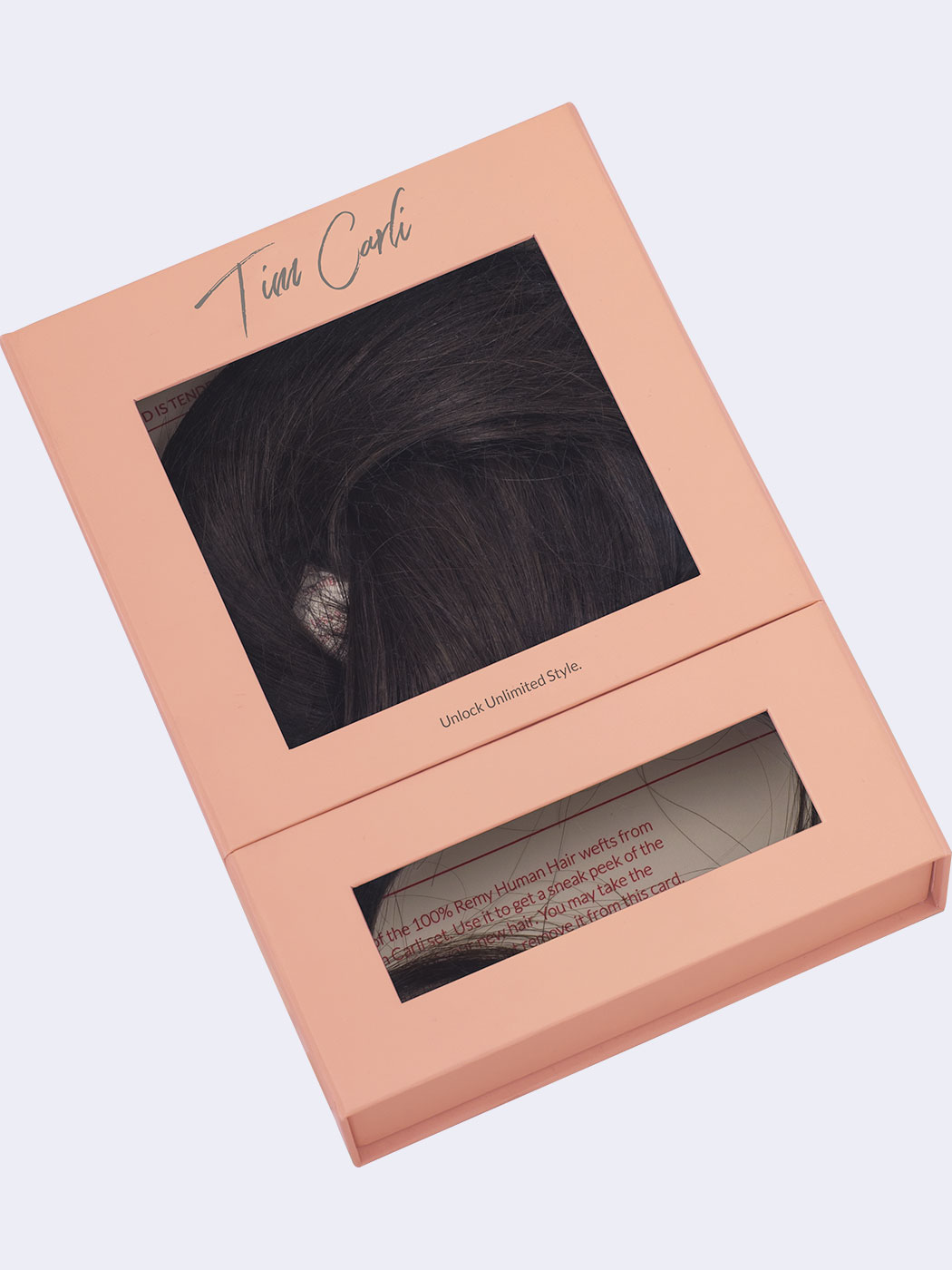 120G FULL SET | 20"
Vixen | Mocha Brown #1C
$149.00
Pay in monthly installments at
$74.50 /month interest-free
Our Mocha Brown human hair extensions are designed for girls whose eyes glitter like diamonds flung on black velvet. Mocha Brown is our richest shade of brown with warm multi-tonal shades that create depth and definition.
Product Details
Tim Carli Clip-in Hair extensions are produced with 100% Remy human hair. Remy hair is the highest quality human hair that naturally blends with your own. Remy hair can last up to 1 year or longer.
reviews & questions
M
04/25/2019
Mari Matsumoto
Easy to use
For someone like me who has never used Hair extensions before, Tim Carli's are the best. They are easy to use, easy to wash, and ease style! I have had so many compliments and will definitely be purchasing again!
Good Quality Hair
I was suprised when the 120gr were full from top to bottom. Usually because it's ideal for thinner hair, the ends are flimsy and stringy - or maybe it's just my bad experiences from other hair stores. Anyway, it's good quality and added the volume and length I needed. 5 stars
Tim Carli Hair Extensions
I can highly recommend these hair extensions, after 6 weeks my hair is growing beautifully and my extensions are in excellent condition.
Looking good, feeling good
I was scared that the clips would be obvious in my fine hair. But after watching your hair tutorial on how to properly clip in extensions, I've been able to hide them well and no one has suspected a thing! Thank you for a wonderful product that has boosted my self-esteem.
Review from a Professional
Let me begin to say that as a hairstylist, my standards for extensions are pretty high. First of all the two tonal technology works great for my shade of brown, I also have extremely thin hair so the 120gr were just right! Not to mention the fantastic free shipping option and I received my package in 3 days, SO IMPRESSED!! I love the Tim Carli brand and will be ordering again!
Review Submitted
Your feedback matters, because it shows us where we're going right— or wrong. Thanks for helping us create an even better experience next time you pop in.
M
12/02/2018
Mindy
Q: Does the hair come in style curly. I have naturally spiral curls
A

Tim Carli Julian

A: Hi Mindy! Thank you for your question. Your Tim Carli extensions will arrive in a straight style. However since they are made from 100% Remy human hair, they can be styled to match your natural curls : ) For more information, check out our blog post: How to blend curly hair with extensions.
M
10/10/2018
MICHELLE
Q: Hi there! I am going to color my jet black hair dark brown and add some highlights soon. Are you able to color these extensions? Thanks!
A

Tim Carli Julian

A: Dear Michelle Thank you for reaching out to us! Yes, since our extensions are made with 100% Remy human hair, you may dye them darker and use heat styling products. However, we do not recommend to lighten or bleach your Carlies as the harsh chemical process may damage them. Unlike your own hair, extensions are not exposed to the healing oils from your scalp. therefore, once you have bleached or highlighted the extensions, they will become dry and brittle. Rather, choose a set that is the same shade as the highlights you plan to get, and then have your hairdresser low light them, to achieve that same look. One more thing: Before dying the extensions, please do test the dye on the smallest weft in the set, so that you can check you are happy with the result first. The last thing you want is coloring regret! I'm more than happy to help you with any further question. Let me know via email, or simply start a chat with our team. Warm Regards ❤ Louisa Tim Carli Support
P
05/12/2018
POPPY
Q: Hi. Does the weight refer to the clips with the hair or just the hair?
A

Tim Carli Support

A: Hi there Poppy! Thank you for reaching out to us! I'm happy to help! The weight does include the materials and clips as well. Although you'll find that the 120g is ideal for thin hair and may be too little for medium-thick hair. I'm more than happy to help you with any further question. Let me know via email, or simply start a chat with our team. Warm Regards, ❤ Nicky Tim Carli Support
Hang In There
Our team is looking over your question. We'll get back to you with answers in no time.